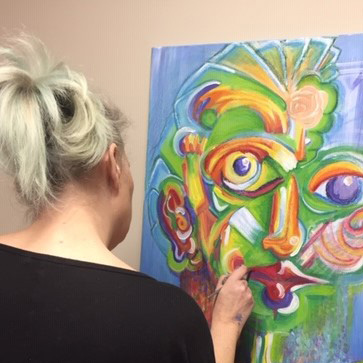 Sara Glasgow
Operations Manager, Recovery Coach Supervisor, Program Coordinator
Sara joined us in 2017 as an Operations Manager. Two years in, she's celebrating four years in recovery – in large part, she feels, due to her continued work at the Turning Point Center and her many creative exploits! She's a very talented artist in her own right, not the least of which includes face and body painting.
Being with her is a little like sitting under a tree on a summer day — her passion and experience for the Expressive Arts in recovery has helped others connect to themselves through art, too. She guides people through different modalities and is an inspired teacher.
Currently, Sara is helping orient new volunteers, supporting our amazing group of Recovery Coaches… and sneaking off to the new Art Studio whenever possible.