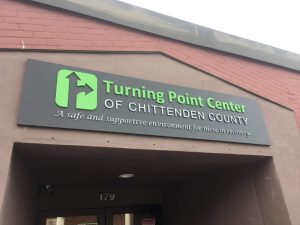 Community Connections: Speaker & Open House
This is a free event, open to the public, but space is limited so we ask that you please reserve your seat. Thank you!
WHAT: Open House at the Turning Point featuring tours of the Center, nibbles from local eateries, and a talk by Dr. Wolfson, MD, of the UVMMC emergency department. Dr. Wolfson will discuss his experience in taking care of patients with opioid use disorder in the Emergency Department, and the impacts of fentanyl and xylazine in our community.
WHERE: Turning Point Center of Chittenden County, 179 S. Winooski Ave., Burlington, VT 05465
WHO: Community members who want to learn more about the epidemic of substance use disorder, and the services and programs offered by the TPCCC
ABOUT THE SPEAKER: Daniel Wolfson, MD, is an Emergency Medicine physician at the University of Vermont Larner College of Medicine and the State of Vermont EMS Medical Director. He is the physician leader for STAR (Start Treatment and Recovery), a program at the University of Vermont Medical Center Emergency Department that provides low barrier access to Medications for Opioid Use Disorder (MOUD). Patients seen in the Emergency Department who have just overdosed, or have other signs of opioid use disorder, can be initiated on MOUD with buprenorphine or methadone and be guaranteed a follow up appointment with a treatment program within 72 hours.
Space is limited! We ask that you RSVP HERE.