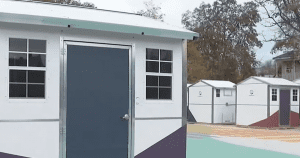 The Turning Point Center of Chittenden County (TPCCC) has been awarded $50,000 per year for three years to expand its Outreach Recovery Coaching program, which helps people in the community struggling with opioid addiction and other substance use.
"The need is great," said Cam Lauf, the center's executive director. "With this new funding, we will expand the program and be on-site, in more locations where we are needed. Instead of waiting, and hoping people decide one day to come to us, we will go to them and share some of the hope that we offer at the center."
The grant was awarded to the center by the University of Vermont Medical Center's Community Health Investment Committee (CHIC). According to its website, the projects supported by this fund will "show a unique, creative way to address an emerging need in ways which might lead to a new best practice." This is exactly what the Outreach Recovery program seeks to do.
The Outreach Recovery program was created in 2020 after the onset of the COVID-19 pandemic, when staff at the TPCCC were searching for ways to maintain contact with people with addiction and substance use after the onset of the COVID-19 pandemic.
Currently the Outreach Recovery Coaches provide low barrier addiction coaching services to individuals and families at the Champlain Inn on Shelburne Road, Susan's Place on Susie Wilson Road in Essex, and the new Burlington Emergency Shelter Pods on Elmwood Avenue.
A typical day for an outreach recovery coach includes facilitating recovery groups, engaging with all who are interested, and establishing trust with community members who feel abandoned. By design, these recovery groups are low barrier which means anyone interested in learning more about recovery from drug and alcohol addiction can attend to discover the many paths there are to recovery.
"When visiting a location, I start my day by greeting staff there, then focus on talking with people," said Olivia Watson, CRC, (Certified Recovery Coach. "I ask people how they are doing, how's their day going, et cetera. I'll often share that I'm an addict in long-term recovery. After sharing my lived experience, sometimes people share their struggle with addiction. This can lead to a real connection. Sometimes, the people I talk with decide to visit the Turning Point Center. Sometimes they sign up to work directly with a peer recovery coach, or to attend a meeting. Often, they tell me about where they have been and where they want to go. That is the first step to recovery."
Peer recovery coaching is effective because the coaches have themselves been in the grips of drug and alcohol addiction. Recovery coaches at TPCCC have sustained recovery and are trained and certified through Recovery Vermont's Recovery Coaching Board Certification. The recovery center has a drop-in location in downtown Burlington that promises a welcoming, substance-free, supportive space, where people can come for fellowship, to attend recovery meetings, to practice yoga, to use computers or make art, and much more.
In addition to meeting with people individually at the center, and on site at emergency, temporary, and supportive housing sites, TPCCC's recovery coaches work within the University of Vermont Medical Center's Emergency Department, consulting with people who are in crisis and supporting them toward treatment and their recovery goals.