OPEN ON WEEKENDS!
Our normal hours of operation are from 9:00am-5:00pm 7 days a week, 365 days a year with some extended hours for groups and meetings.
Our groups and programs meet in person and online. Visit our calendar to view our current groups and program schedule. If you have questions or would like to speak with a peer staff memeber, please call the Center at 802 -861-3150.
WCAX Featured TPCCC Emergency Department Recovery Coaching Program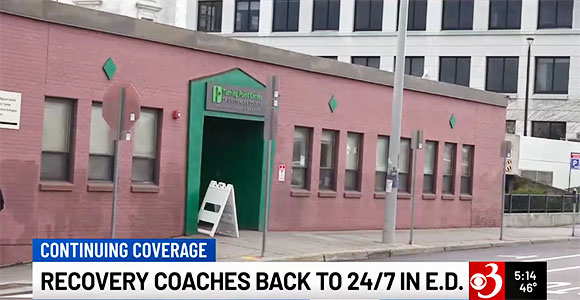 Turning Point Center's Peer Coaches connect with patients struggling with use and addiction in UVMMC's Emergency Department, and 83% of these patients seek continued services with TPCCC after their ED visit. This peer connection is making a tremendous difference during a critical time.
Watch WCAX Video
What Our Guests Have to Say
I have both mental illness and alcoholism. I don't work that much or go to school so instead of spending 24 hours in my apartment, I come here to make friends, be useful, and hopefully find recovery from my self-destructive behaviors.

– Anonymous
The Turning Point for me has been a healthy, safe, and positive environment for to spend my time, reflect, and gain help and support. The Center brings a great opportunity to meet sober people and mingle among the sober community – something that is essential to my recovery. The Turning Point offers so much more than a chance for sobriety. The staff is helpful and wonderful, and I enjoy myself each time I visit.

– Jon
A great place to hang-out, especially in early recovery. You can meet new people who have a common goal, and get connected to a new community of clean individuals on their own paths to recovery.

– Adam
Our Mission
The Turning Point Center of Chittenden County is a dedicated, compassionate community that provides recovery support services in a safe, substance-free environment for individuals and families on multiple paths to self-discovery and sustained recovery.